International One Woman Show 'Gloria's Handbag' Comes To Bateau Bay #CoastTimesNews #CentralCoast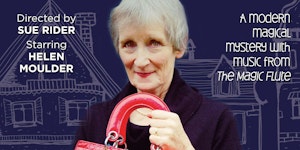 Wyong Shire Council
Media Release – 14 August 2015
International One Woman Show 'Gloria's Handbag' Comes To Bateau Bay
Theatre goers are in for a real treat as New Zealand's award winning actor, Helen Moulder, brings her outstanding one woman show Gloria's Handbag to Wyong Shire.
Based in 2021, New Zealand, the play revolves around Gloria, aged 97, whose son is pushing her, against her final wishes, to live her last days in a retirement home. Impulsively, Gloria buys an extraordinary designer bag, which is when the mystery and magic begins.
Council's Section Manger Library Services, Andrea Edwards, said she was excited about seeing this unique show performed by such a talented performer.
"Helen amazingly plays six different characters in this production, including two male roles, performs magic tricks and also sings several songs, one of which is a duet from Mozart's Magic Flute," Ms Edwards said.
"Dedicated to her art, Helen actually learnt some magic tricks especially for the show.
"Helen has decades of experience as an actor in New Zealand's theatre, television and film industries and has also worked in the United Kingdom for a few years during the seventies, singing in musicals and pantomime.
"At just five dollars a ticket, they will fly out the door, so get in quickly!"
Presented by Bateau Bay Library, the play will be held on Monday 24 August at Tuggerah Lakes Community Centre, 2pm.
Helen explains how the play was inspired by her mother, who only took a handbag with her to hospital, knowing she had not much time left to live.
"It also looks at consumerism of modern western society – how we're defined by what we have and how objects harness memories, possibly why we pass on items to be remembered," Ms Moulder said.
"I started touring this show in New Zealand, March 2014, and enjoy that I can bring it to regional areas like Wyong Shire.
"I look forward to seeing everyone's favourite handbags at the show!"
–
Bookings are essential and can be made in person at any branch or by contacting Bateau Bay Library on 4350 1580.

Payment must be made within 24 hours to secure seating.
–
END
–